Lady Margarets Tower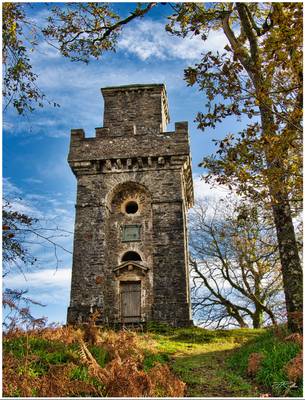 Tower built on Garbh Ard beyond Lochnell House.
Completed with the date 1754 engraved above the door.
Built by Duncan Campbell 7th of Lochnell, reputedly for his wife to be able to see across to her native land.
except that his wife (Lady Margaret) came from Shawfield, but his mother was Lady Margaret (Stewart) from Appin, so maybe it was in memory of his mother instead,
It was finished in 1754 which is likely after his mothers death as she was born in 1657, and he married his Margaret earlier in the the 1700s)
It did create work for local men in the hard times of the middle 1700s,
But what was more odd is that Lochnell house was a burnt out ruin at this time, having caught fire in 1741 just as it had been completed, and was not remodelled until the early 1800s.
The interior of the tower was burned out in the mid 1800s, as were the records of Lochnell house itself in the second fire in the house in 1853 so what exactly was inside, who it was for, and why it was built is unknown
In the past it has been possible to climb the circular staircase to the top with an amazing view across to Ben Lora, over Loch Linnhe to Mull, Lismore, Morvern and up into Glencoe.
NM83NE 5 88224 38337
Walker, F A. (2000) Argyll and Bute, The buildings of Scotland series. London. Page(s): 390-1 RCAHMS Shelf Number: Quick
https://www.facebook.com/ladymargaretstower/
https://canmore.org.uk/site/23000/lochnell-lady-margarets-tower
---
We are creating the skeleton of this wiki for the community, near and far, to work together to develop an encyclopedia of the natural, family and social history of Ardchattan.
Please bear with us as we develop this site, and please join in to contribute any images, information, or questions you have on any location or topic. Email images / records / documents to ku.gro.nattahcdra|evihcra#ku.gro.nattahcdra|evihcra
you can add questions and information for this page here