Donald Currie 1883 1914
Father Thomas Currie
Mother Margaret Birrell
born 22 MAY 1883 • Nelson Street, Ferry Port on Craig, Fife
image on the old appin website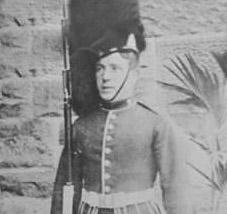 Commemorated on the Selma church plaque (free church) now erected in St Modans Church, as well as in the Appin church.
https://www.ancestry.co.uk/family-tree/person/tree/108770421/person/112145322181/facts
1911 census he was lodging with McLeod family in Carters Cottage, Fasnacloich Estate working as postman
Wife Catherine McColl - born Glenkinglas, lived Achacha
married in Connel 13 Mar 1912
daughter Annie Elizabeth Currie born Glenroy Connel 12 May 1912
daughter Margaret Birrell Currie born Barcaldine 31 Aug 1913
Catherine remarried Duncan McGillvray and had more children
Postman on daughters birth certificate
Address in 1914 : Keepers Cottage, Barcaldine - this is Catherine's parents house1
it looks like they moved into Glen Creran as the Appin church has him commemorated on their plaque.
http://oldappin.com/pte-donald-currie/ - postman at Fashnacloich
Killed in action at the 1st battle of Ypres, Belgium
234 men died on this day including 5 from the Black Watch battalion -https://firstworldwaronthisday.blogspot.com/2014/11/234-died-on-this-day-mon-09111914.html
UK, Soldiers Died in the Great War, 1914-1919
Name Donald Currie
Birth Place Newport, Fifeshire
Death Date 9 Nov 1914
Death Place France and Flanders
Enlistment Place Dundee, Forfarshire
Rank Private
Regiment Black Watch (Royal Highlanders)
Battalion 1st Battalion
Regimental Number 8108
Type of Casualty
Killed in action
Theatre of War Western European Theatre
Other Records Donald Currie - Black Watch Royal Highlanders 8108
War Diaries (France, Belgium, Germany)Black Watch (Royal Highlanders) P092S109War Diaries (Gallipoli)Black Watch (Royal Highlanders) P092S109
https://livesofthefirstworldwar.iwm.org.uk/lifestory/1061522
War record : to obtain a scan of
Medal card : to obtain a scan of
Source information
ID: 1061522
Reference: WO372/5
Title: Medal Index Card
Description: Medal index cards were created by the Army Medal Office towards the end of the First World War. They record the medals that men and women who served in the First World War were entitled to claim.
URL: http://discovery.nationalarchives.gov.uk/SearchUI/Details?uri=D2048968
costs £3.50 for the pdf
UPP: GBM/MCI/1062495
Credit: © The National Archives
Burial location Commonwealth War Graves Commission
Source information
ID: 7509064
Reference: CWGCCASUALIWM
Title: Commonwealth War Graves Commission (CWGC) Casualty Records
Description: The Commonwealth War Graves Commission (CWGC) commemorate First World War servicemen and women and members of some civilian organisations who died before 31 August 1921 while in Commonwealth military service or of causes attributable to service.
URL: http://www.cwgc.org/find-war-dead/casualty/1608840/
UPP: GBM/CWGCCASUALIWM/848095
Credit: © Commonwealth War Graves Commission
Private
CURRIE, DONALD
Service Number 8108
Died 09/11/1914
Aged 31
1st Bn. Black Watch (Royal Highlanders)
Son of Thomas and Margaret Currie, of Tayport, Fife; husband of Katherine McGillivray (formerly Currie), of Dalbrack Cottage, Dunblane, Perthshire.
Commemorated at YPRES (MENIN GATE) MEMORIAL
Location: West-Vlaanderen, Belgium
Number of casualties: 54610
Cemetery/memorial reference: Panel 37.
PIN 82/43 - First World War widows' pension forms
https://discovery.nationalarchives.gov.uk/details/r/C6698926
Name: Donald CURRIE . Unit: The Black Watch (Royal Highlanders) . Cause of death: Killed…
Reference: PIN 82/43/14
Description:Name: Donald CURRIE.
Unit: The Black Watch (Royal Highlanders).
Cause of death: Killed in action
Date: [1915-1925]
Held by: The National Archives, Kew
Legal status: Public Record(s)
Closure status: Open Document, Open Description
Access conditions: Open Immediately
Find my past record for pension
https://www.findmypast.co.uk/transcript?id=GBM/PIN82/002221 image downloaded. (APA-Mil Donald Currie 1883-1914 British Armed Forces, First World War Widows' Pension Forms Find my past.png)
He is remembered on the Lismore and Appin memorial plaque at Appin church
https://www.everyoneremembered.org/profiles/soldier/1608840/
---
We are creating the skeleton of this wiki for the community, near and far, to work together to develop an encyclopedia of the natural, family and social history of Ardchattan.
Please bear with us as we develop this site, and please join in to contribute any images, information, or questions you have on any location or topic. Email images / records / documents to ku.gro.nattahcdra|evihcra#ku.gro.nattahcdra|evihcra
you can add questions and information for this page here